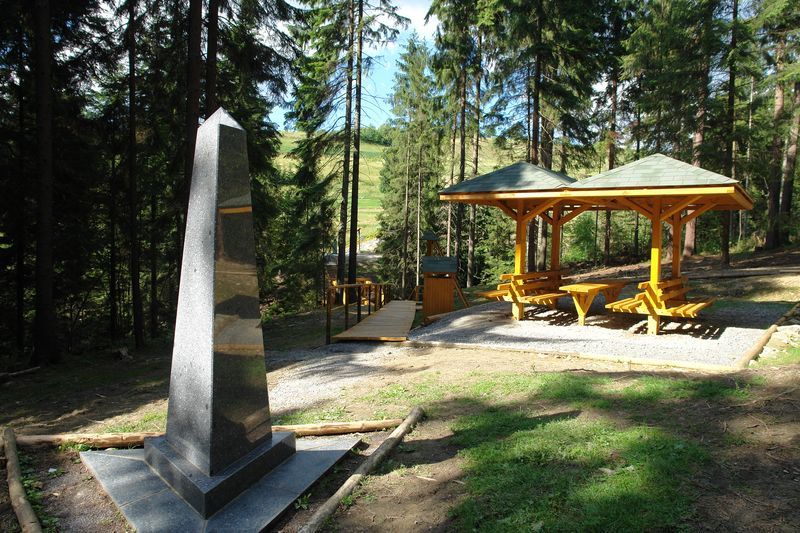 The meeting point of three countries – the Czech Republic, Poland and Slovakia
For a truly unique experience, why not stand in three countries at the same time? We invite you to Hrčava, Istebna and Čierne, the point where three countries come together – the Czech Republic, Poland and Slovakia. The meeting point (known as Trojmezí in Czech) is in the valley of a small stream. The valley is 8 m deep and 34 m wide, and the exact location of the meeting point is at the centre of a triangle formed by three 240 cm high granite monoliths. These imposing stones were erected on 22 June 1995, and their plinths contain various everyday items preserved for future generations – documents, newspapers from that day, and coins.
In 2007, as part of the cooperation set up within the Association of Municipalities in the Jablunkov Region, an 18 m long wooden footbridge was built to connect the Polish and Slovak banks of the stream, and a smaller bridge was erected over the ditch marking the Czech-Polish border. In the same year a shelter for hikers was put up on the Slovak side, and two years later a campfire site was built on the Czech side. Access to the point is along the Czech-Polish border via paved steps and a path for pedestrians, cyclists and visitors with prams and baby buggies.
Our tip for a trip:
We recommend an unconventional trip through three different countries, combined with a tasting of Czech, Polish and Slovak beers, with three currencies in your wallet and hearing three different languages –all mixed up with the distinctive local dialect. A good starting point would be the Czech village of Hrčava: take the yellow marked path to the border crossing
Trojmezí (CZ/PL) – the green path to Jaworzynka and Jaworzynka-Kotelnice – the border crossing Jaworzynka (PL) / Čierne (SK) – then take the blue path across the ´Valy´ to the village of Čierne itself (railway halt, refreshments) – then the green path followed by the yellow path back to Hrčava – 10 km.
How to get to the Trojmezí meeting point:
from the village of Hrčava (CZ) 2 km along the yellow path
from the village of Jaworzynka – Trzycatek (PL) 1 km along the green path
from the village of Čierne (SK) from the railway ´Čierne, zastávka´ take the blue path, then on adapted pathway